Accepting crypto as a form of payment.
What is Cryptocurrency Processing?
Set of automated operations to accept payments from end-users.
Create Receiving Wallet.

Create a unique Receiving Address to accept payments from end-users for identification purposes.

Track Incoming Payments.

Track incoming crypto payments to confirm receipt of funds.

Collect to Custody.

Transfer received tokens to a Hot or Cold wallet for future use.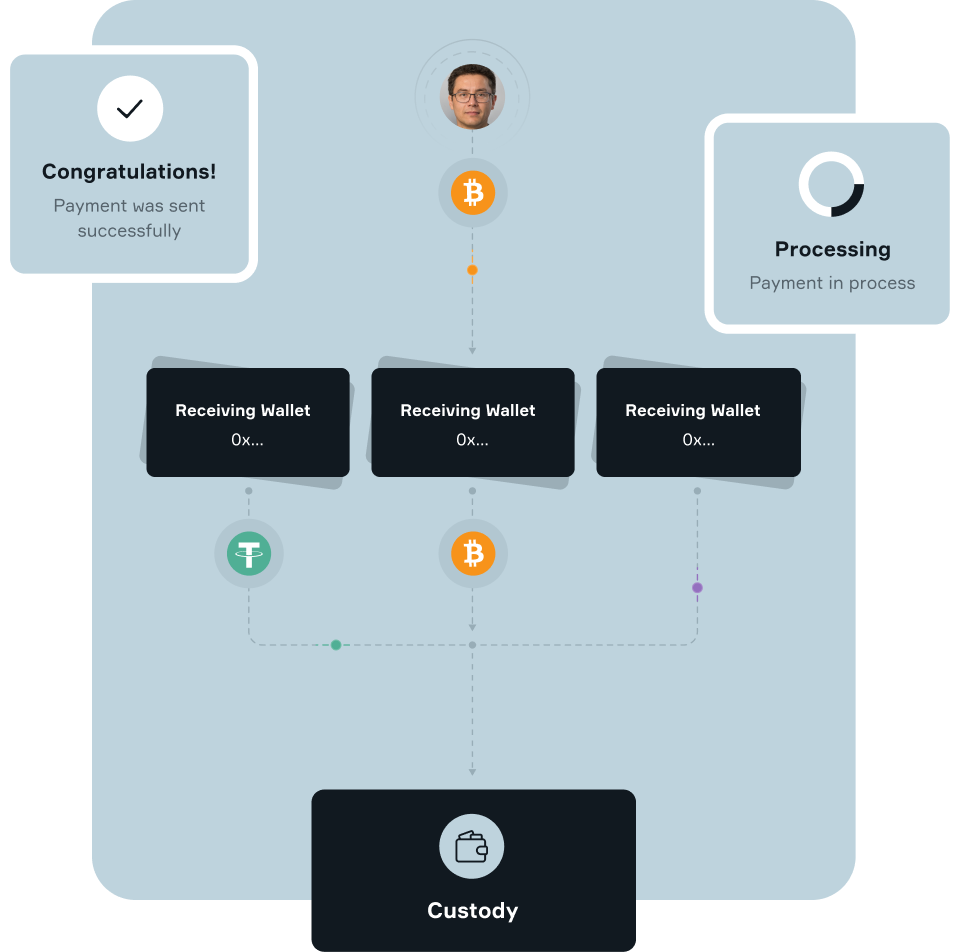 Processing Flow.
What we offer in Curra Protocol?
Introducing a pioneering trustless on-chain protocol to automate crypto processing.
💡
Protocol User is a merchant or custodian who accepts cryptocurrency as a form of payment.
Onboarding.

The Protocol User has the flexibility to establish its own forwarding rules, such as whitelists, automations, and more, to mint an Ownership NFT and deploy a rules.sol smart contract, which is linked to the NFT.

The Receiving Wallet

is calculated off-chain using the Curra SDK on the merchant's side, with the use of the Ownership NFT metadata.

Curra Protocol

operator transfers assets solely to the wallet of the Protocol User or executing automations as outlined in the Forwarding Rules smart contract.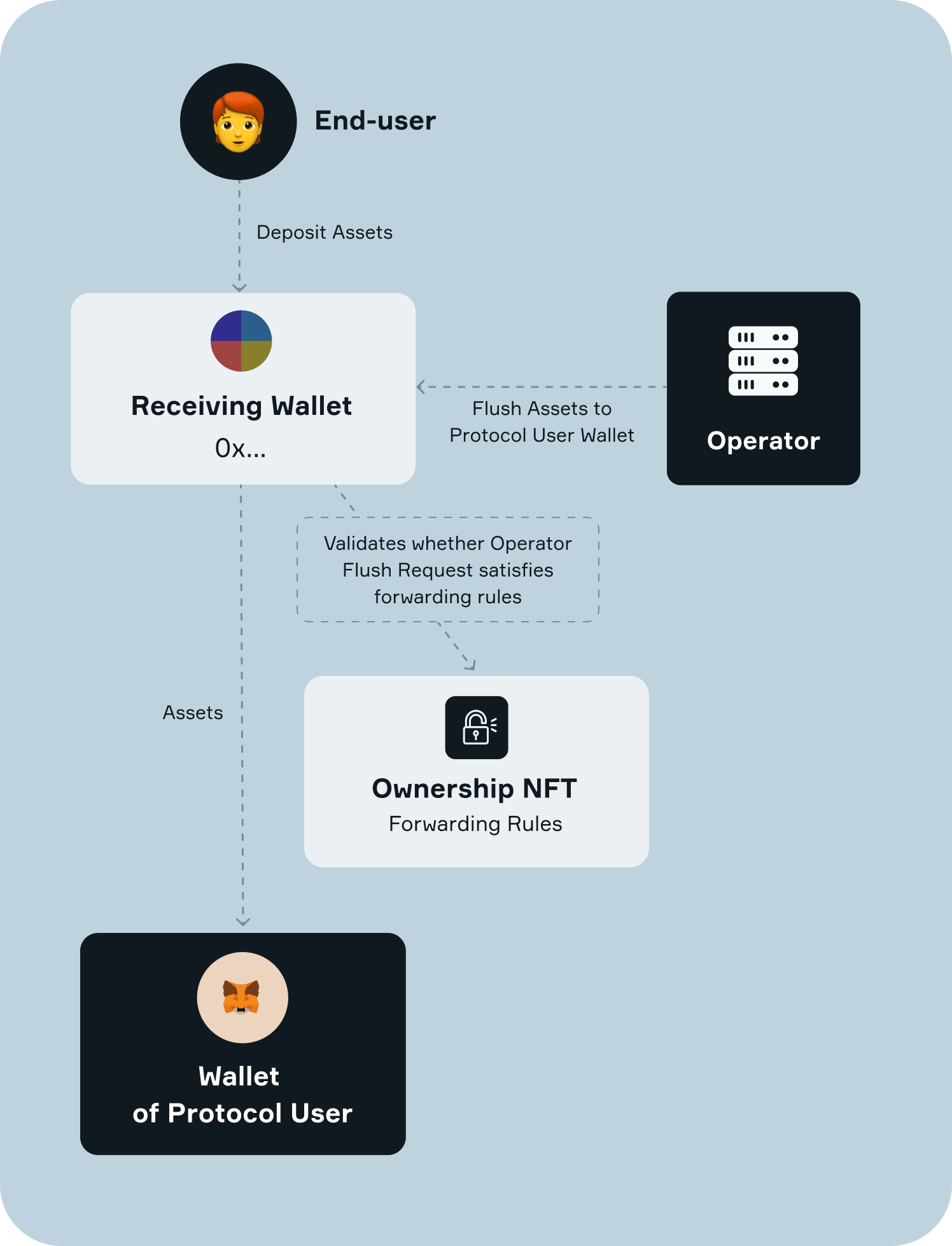 Ensuring the safety of funds.
Who said Trustless?
Ownership NFT

is a key component of the trustless security for the Protocol User. Its on-chain forwarding rules, deployed as a smart contract, can include a range of configurations that are impossible to violate.

Operators

are restricted to transferring assets solely to the wallet of the Protocol User or executing automations as outlined in the Forwarding Rules smart contract.

Staking Contract.

To become an Operator of the Curra Protocol, one must Stake Curra Tokens.

Coordinator.

The DAO-governed Coordinator delegates flushing tasks to Operators and monitors for malicious behaviour, with the power to "Punish" Operators by reducing their stake for inappropriate on-chain conduct.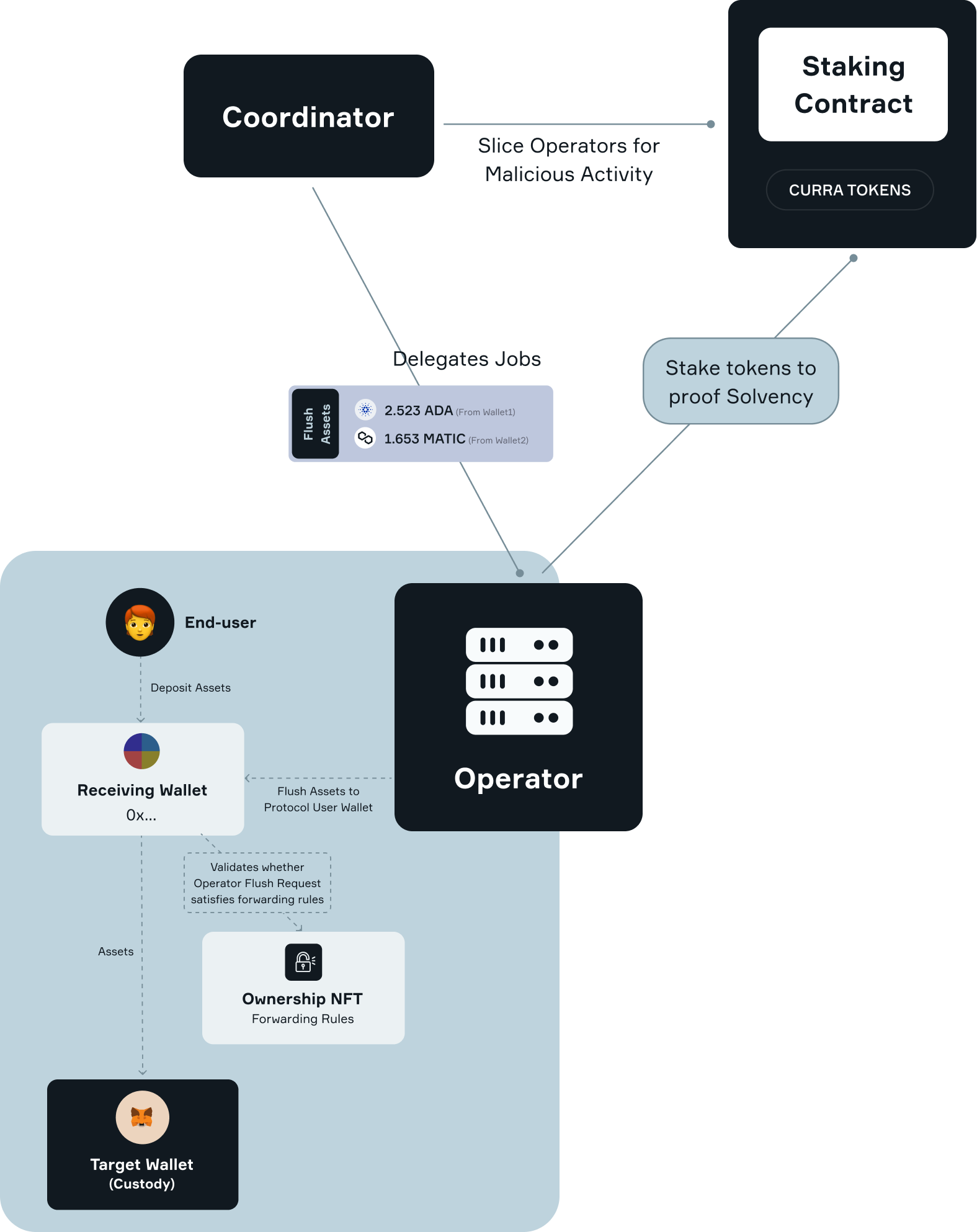 Frequently Asked Questions
How can I save with Curra?

Does not matter you use custodial service with volume-based pricing, third-party custody infrastructure or even in-house solution - we a have great offering:

We do not charge any volume-based fees.
For 10,000 transactions on the Ethereum blockchain, with Vortex, your potential savings could reach $50,000 in equivalent ETH.
Let your in-house team concentrate on core business without compromising security of your assets.
No more nodes maintenance, we provide full scale Blockchain Data API, included in pricing.

How can I customize Curra to fit my specific needs?

Variety of customisation features, crafted for enterprises and startups, so you can adjust everything for your specific needs:

You can configure minimum/maximum transaction amount, gas price configurations, add any tokens on supported blockchains.
With AML Compliance features you can specify triggers, depending on risk score of incoming transactions or destination wallets.
Also we can implement on-demand features, specifically for your business.

What blockchains does Curra support?

Curra supports Bitcoin blockchain, most EVM-compatible blockchains and all the tokens on them. Also we are working towards launching on the Tron blockchain in near future with variety of cost-optimisation features.

Can I integrate Curra with my existing software?

We offer a comprehensive set of features and with the use of Curra SDK, developers can easily integrate cryptocurrency payments into any software.
Ready to dive in?
Contact us to see how Curra can improve your business.
© 2023 Curra. All rights reserved.
The logos displayed on this website are used for compatibility reference purposes only and do not imply any endorsement or affiliation with the respective companies.